The last time I wrote a discussion post was approximately…two (?) years ago so bear with me. Today, I'm discussing some of the struggles I've experienced as a book lover. So sit down, grab a drink, get comfortable, and be prepared to (hopefully) relate. 
1. remembering to charge my kindle 
I never go anywhere without my Kindle. This is part of my #1 strategy to get lots of reading done even when I'm swamped with homework (and supposed to be revising my novel). Whenever I'm waiting for class to start or sitting on the train, I pull out my Kindle and dive right into a good book. Unfortunately, I often forget to check the battery so my Kindle sometimes dies..right as I get to the good stuff! I'm half hoping writing this post will help me remember to charge my Kindle more often. 

2. not binge-reading books when you should be doing <insert thing> 
During the school year, I'll often discover a new book series (e.g. the Wayward Children series by Seanan McGuire) and become obsessed with it to the point where I'm staying up late reading instead of doing my homework. I heard sleep is good for you but I MUST KNOW WHAT HAPPENS NEXT so of course I buy the next two or three (or even four) books and forget about making plans with friends because I have reading to do!
As a responsible adult (well I turned 18 last year), I'm going to try my best to quit doing this but you know what they say, old habits die hard! (I don't know if anyone still says that but anyways, moving on…) 

3. finding a bookmark 
Yes, I am one of those people who prefers not to dog-ear books (but I won't be too offended if you chose to). When I don't have my Kindle with me, I'm home with a big stack of books within reach. I love collecting bookmarks but when I actually need one, they all seem to disappear! On the rare occasion that I'm outside with a physical book, I often have to resort to using random pieces of paper (receipts, tickets) or objects (my passport, a scrunchie) as a bookmark. In all likelihood, these will fall out and I'll have to flip through the book until I find the right page. It's a real struggle to be a book lover.  

4. deciding whether to DNF a book or not
Here's the thing, there's always the chance that a book will get better right when you decide to stop reading it. Most of the time, I don't take that chance and keep reading because life is short and I want to enjoy 99% of the time I spend reading a book.
Recently, I decided to stop reading Beastly Bones by William Ritter. It's not a bad book (in fact it is well written) but I just don't feel like reading it at the moment. I might change my mind and return to it after I finish some other books but for now, I want to move on. Sometimes it takes me weeks of avoiding reading a book to come to the conclusion that I should ditch it but other times, I'll stop after the first chapter or the first page because I know the book isn't for me. I also don't think there's anything wrong with the books I DNF'd. It's a matter of preference! I prefer some genres over others and certain writing styles (flowery prose) over others so it isn't the book's fault if I'm bored. 

5. reading books i own instead of buying more
I love buying books (which is a good thing because I'm supporting my favorite authors) but it can get a little out of hand when I own so many unread books and I'm still buying more!
This is why I try to go a few months without buying any new books. During that time, I'll try to finish most of the unread ebooks and paperbacks. I guess the keyword is try because before long, some shiny new book covers will catch my eye and I'll go off on another book buying spree.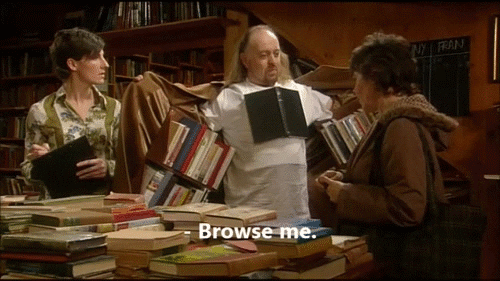 Not to mention spontaneously buying random books at airport book stores because there's nothing like travelling to convince me that I need MORE BOOKS to stave off boredom. 
i hope i'm not the only one who struggles with these things and if i missed a few of your struggles, i'd love to hear about them. what are the strangest things you've used as bookmarks? do you ever DNF books? do you prefer ebooks or physical books?